February 19, 1999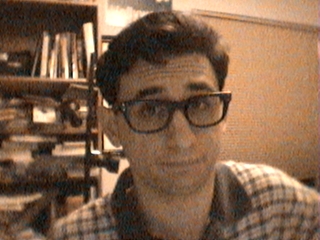 I'm back! It was a really great week. Other than it hailing and raining off and on, Humboldt/Arcata, California is a fantastic place. We got back late Sunday evening after a six hour drive. The drive coming home was much easier than the drive up which was complicated by near pitch black roads, heavy rain, and winding mountain roads. Yikes. We made it there and back alive which is what counts in the end I guess.
I got two callbacks from my SCETA audition. One was for a rep. theatre in Colorado and the other is from Western Stage here in California. The Western Stage callback is here in Santa Clara on the 5th of March. Two callbacks isn't bad, eh?
I auditioned for the New Play Festival during ACTF week and was called back for three productions. The NPF is a group of about 10 new student written plays that are workshopped, rehearsed, and then performed at the end of the week and wha'dya know, I was cast in a show called "Lunch Pails".
I found a computer terminal at Humboldt State's library during the week, last week, and was able to surf the web and open up an Instant Message connection for a few hours. I talked to Julie for a while. It was nice to get back in touch with her as it had been half a week since I had talked to her last and it seemed like longer. We've continued to talk a lot online and on the phone. I sang her a bunch of songs tonight. We're freaks. The whole relationship coming back out of the woodwork, we've decided, is weird. But I think it's a good weird. I know it's a good weird. She's coming back here in three weeks but I don't know if I can wait that long. I might go down in a week or so with a friend of hers.
So I got 65 out of 94 nominations or 69%, two out of every three, correct. Not bad, eh? I called four categories 100% (Film, Lead Actress, Direction, and Original Screenplay) and four others four out of five. Below is the final nomination list, my original predictions, and my final Oscar picks for who will win (not neccesarily who should [ie., Life is Beautiful].) Note that my correct nomination predictions are listed in blue and my predictions for Oscar winners are marked with a *:

Best Film

        Elizabeth 
        Life is Beautiful 
        Saving Private Ryan *
        Shakespeare In Love 
        The Thin Red Line 


Actor in a Leading Role

        Roberto Benigni, Life is Beautiful
        Tom Hanks, Saving Private Ryan
        Ian McKellen, Gods And Monsters *
        Nick Nolte, Affliction 
        Edward Nolte, American History X


Actress in a Leading Role

        Cate Blanchett, Elizabeth *
        Fernanda Montenegro, Central Station 
        Gwyneth Paltrow, Shakespeare In Love
        Meryl Streep, One True Thing
        Emily Watson, Hillary And Jackie


Actor in a Supporting Role

        James Coburn, Affliction 
        Robert Duvall, A Civil Action 
        Ed Harris, The Truman Show
        Geoffrey Rush, Shakespeare In Love
        Billy Bob Thornton, A Simple Plan *


Actress in a Supporting Role

        Kathy Bates, Primary Colors
        Brenda Blethyn, Little Voice
        Judi Dench, Shakespeare In Love
        Rachel Griffiths, Hilary and Jackie
        Lynn Redgrave, Gods And Monsters *


Direction 

        Roberto Benigni, Life is Beautiful
        John Madden, Shakespeare In Love
        Terrence Malick, The Thin Red Line
        Steven Spielberg, Saving Private Ryan *
        Peter Weir, The Truman Show


Art Direction

        Elizabeth
        Pleasantville
        Saving Private Ryan
        Shakespeare in Love *
        What Dreams May Come


Screenplay for Screen

        Bulworth: Warren Beatty & Jeremy Pikser
        Life is Beautiful: Vincenzo Cerami & Roberto Benigni
        Saving Private Ryan: Robert Rodat 
        Shakespeare In Love: Marc Norman and Tom Stoppard *
        The Truman Show: Andrew Niccol 


Screenplay Previously Produced/Published

        Gods And Monsters: Bill Condon
        Out Of Sight: Scott Frank
        Primary Colors: Elaine May
        A Simple Plan: Scott B. Smith *
        The Thin Red Line: Terrence Malick


Foreign Film

        Central Station
        Children of Heaven
        The Grandfather
        Life is Beautiful *
        Tango


Original Song

        I Don't Want to Miss a Thing - Armageddon 
        The Prayer - Quest for Camelot 
        A Soft Place to Fall - The Horse Whisperer 
        That'll Do - Babe: Pig in the City 
        When You Believe - Prince of Egypt *


Original Dramatic Score

        Elizabeth
        Life is Beautiful
        Pleasantville
        Saving Private Ryan *
        The Thin Red Line 


Original Comedy/Musical Score

        A Bug's Life
        Mulan
        Patch Adams
        The Prince of Egypt *
        Shakespeare in Love 


Film Editing  

        Life is Beautiful 
        Out of Sight 
        Saving Private Ryan *
        Shakespeare in Love
        The Thin Red Line


Cinematography

        A Civil Action 
        Elizabeth 
        Saving Private Ryan *
        Shakespeare in Love 
        The Thin Red Line


Costume Design

        Beloved 
        Elizabeth *
        Pleasantville 
        Shakespeare in Love 
        Velvet Goldmine 

Makeup

        Elizabeth 
        Saving Private Ryan 
        Shakespeare in Love *


Sound

        Armageddon 
        The Mask of Zorro 
        Saving Private Ryan *
        Shakespeare in Love
        The Thin Red Line 


Sound Effects Editing

        Armageddon
        The Mask of Zorro 
        Saving Private Ryan *

Visual Effects

        Armageddon *
        Mighty Joe Young
        What Dreams May Come 
        


- mark