[Previous entry: "Brand New Day"] [Main Index] [Next entry: "Countdown"] 05/31/2001
Tony Winner Predictions
Here we go again. Another year, another round of Tony predictions. What follows are my predictions for who will win this Sunday's Tony Awards. Nominees in green are my predicted winners. Nominees in purple are my predicted runners up/spoilers.
CHOREOGRAPHYJerry Mitchell, The Full MontyMoore/Pinney/Vanderkolff, Blast!Randy Skinner, 42nd StreetSusan Stroman, The ProducersORCHESTRATIONSDoug Besterman, The ProducersLarry Hochman, A Class ActJonathan Tunick, FolliesHarold Wheeler, The Full MontyBOOK OF A MUSICALLinda Kline/Lonny Price, A Class ActTerrence McNally, The Full MontyJohn Caird, Jane EyreMel Brooks/Thomas Meehan, The ProducersSCOREEdward Kleban, A Class ActDavid Yazbek, The Full MontyPaul Gordon/John Caird , Jane EyreMel Brooks, The ProducersCOSTUME DESIGNTheoni V. Aldredge, FolliesRoger Kirk, 42nd StreetWilliam Ivey Long, The ProducersDavid C. Woolard, The Rocky Horror ShowLIGHTING DESIGNJules Fisher and Peggy Eisenhauer, Jane EyrePaul Gallo, 42nd StreetPeter Kaczorowski, The ProducersKenneth Posner, The Adventures of Tom SawyerSCENIC DESIGNBob Crowley, The Invention of LoveHeidi Ettinger, The Adventures of Tom SawyerDouglas W. Schmidt, 42nd StreetRobin Wagner, The ProducersDIRECTOR OF A PLAYMarion McClinton, King Hedley IIIan McElhinney, Stones in His PocketsJack O'Brien, The Invention of LoveDaniel Sullivan, ProofDIRECTOR OF A MUSICALChristopher Ashley, The Rocky Horror ShowMark Bramble, 42nd StreetJack O'Brien, The Full MontySusan Stroman, The ProducersFEATURED ACTOR IN A PLAYCharles Brown, King Hedley IILarry Bryggman, ProofMichael Hayden, Judgment at NurembergRobert Sean Leonard, The Invention of LoveBen Shenkman, ProofFEATURED ACTRESS IN A PLAYViola Davis, King Hedley IIJohanna Day, ProofPenny Fuller, Neil Simon's The Dinner PartyMarthe Keller, Judgment at NurembergMichele Lee, The Tale of the Allergist's WifeFEATURED ACTOR IN A MUSICALRoger Bart, The ProducersGary Beach, The ProducersJohn Ellison Conlee, The Full MontyAndre De Shields, The Full MontyBrad Oscar, The ProducersFEATURED ACTRESS IN A MUSICALPolly Bergen, FolliesKathleen Freeman, The Full MontyCady Huffman, The ProducersKate Levering, 42nd StreetMary Testa, 42nd StreetLEADING ACTOR IN A PLAYSean Campion, Stones in His PocketsRichard Easton, The Invention of LoveConleth Hill, Stones in His PocketsBrian Stokes Mitchell, King Hedley IIGary Sinise, One Flew Over the Cuckoo's NestLEADING ACTRESS IN A PLAYJuliette Binoche, BetrayalLinda Lavin, The Tale of the Allergist's WifeMary-Louise Parker, ProofJean Smart, The Man Who Came to DinnerLeslie Uggams, King Hedley IILEADING ACTOR IN A MUSICALMatthew Broderick, The ProducersKevin Chamberlin, SeussicalTom Hewitt, The Rocky Horror ShowNathan Lane, The ProducersPatrick Wilson, The Full MontyLEADING ACTRESS IN A MUSICALBlythe Danner, FolliesChristine Ebersole, 42nd StreetRandy Graff, A Class ActFaith Prince, Bells Are RingingMarla Schaffel, Jane EyreREVIVAL OF A PLAYBetrayalGore Vidal's The Best ManOne Flew Over the Cuckoo's NestSearch for Signs of Intelligent LifeREVIVAL OF A MUSICALBells Are RingingFollies42nd StreetThe Rocky Horror ShowPLAYThe Invention of LoveKing Hedley IIProofThe Tale of the Allergist's WifeMUSICALA Class ActThe Full MontyJane EyreThe Producers


This entry has 2 comments:

Free tickets to "The Producers", and a used red thong from "Full Monty"

cheshirecat (06/03/2001 08:32 PM)




What do the runners-up get?

jc (06/01/2001 01:07 PM)





<!A NAME="comments">

Add A New Comment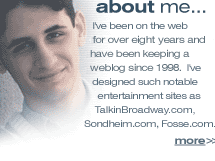 | | |
| --- | --- |
| | You know it. You love it. You can't get enough of it. Yes, it's the infamous webcam! |
| | |
| --- | --- |
| | Times have changed and so too has the design of this site. Journey back in time with me for some redesign fun! |
| | |
| --- | --- |
| | I have a healthy fascination with the phenomenon of events in relation to the musical Assassins. |
---


What people are saying:
I'm really not sure of the appeal of Mark Bakalor's site, because frankly I suspect there is none, but hell, I check it at least thrice daily, and you should too!

- dlevy
"Your website is beautifully demented. The moving head thing in the top left just does it. I've been staring at it for the past minute and still find it amusing. You're an inspiration to us all."

- Gord

"A physical middle ground between Bing Crosby and a sedated Pee-Wee Herman."

- Press Democrat

"Your website makes me giggle. tee-hee! i cannot stop myself."

- Jenn Kauffman

"Decide for yourself if this guy is brilliant or kooky."

- Brainrub.com

Brilliant!!! You're a cross between Robin Willliams and Fred Astaire!

- Mom


"I want to keep an ongoing converse with you about the end of wars, crime, death and old age... Like most, you are probably a bible reader... lets talk soon."

- Michael


"poopy shmapoopy on a purple stick."

- Emily


"People as talented as you should be smothered at birth. You're making the rest of us look like slackers."

- Brad Graham


"caCAcaca!"

- Elmer

Do you have something to add?