[Previous entry: "Don't Look A Gift Palm In The Mouth..."] [Main Index] [Next entry: "Unicom Wins"]

02/03/2002
And the nominees are...
This is the fourth year I've been keeping records of my Oscar related predictions. My record, over the last three years, for correct Oscar nominees is 69.4% for all categories, for the big eight it's 77.5% and for the big four categories it's 78.3%.
As far as Oscar nomination predictions go, over time the categories I've best predicted are Actor, Actress, Supporting Actress, Costume Design, Sound and Visual Effects. For those categories I've predicted at least 4 of 5 (or at least 2 of 3 in related categories) nominees. My worst categories have been Foreign Film, Cinemetography, Make Up and Sound Editing.
This year, as every year, I'll try to increase my accuracy.
It is, perhaps, interesting to note that this year, of the big eight categories, myself and Entertainment Weekly agree on four of five nominees in each category except Best Actress where we agree on all five.
I'll have the official nominees, how I did compared to them and my initial reaction on the morning of February 12 and then I'll take an initial and then official stab at my Oscar winner predictions between then and March 23. Then we get the winners, my results and reactions and I'll shut up about predictions for a few weeks when I'll begin back up again with the Tony nomination and winner predictions!
Anyway, on with my predictions for, and commentary on, this year's set of Oscar nomination predictions...
Note: As always, these are who I feel will be nominated and not neccesarily who I feel should. I've listed my predicted nominees and runners up in the order I feel they'll "place." The higher up they are the more likely it is they'll be nominated. My official predictions for who will wind up nominated are listed in the first five (or three) nomination slots.

Picture
A Beautiful Mind
Moulin Rouge
The Lord of the Rings
In The Bedroom
Gosford Park
Black Hawk Down
Memento
Harry Potter
Shrek
Amelie
A Beautiful Mind has gained a momentum that should bring with it quite a few guaranteed nomination slots and many wins, at this point. All five of my first go around predicted nominees have made it to these final predictions though the spoilers have jumped around quite a bit. Gosford Park is the most unstable in the top five with Black Hawk Down and Memento nipping on its heals. Harry Potter and Shrek lag far behind but could upset like Oscar noms are known to do. Amelie, Mullholland and Monster's Ball have been put out to pasture.

Director
Ron Howard, A Beautiful Mind
Peter Jackson, Lord of the Ring
Robert Altman, Gosford Park
Baz Luhrmann, Moulin Rouge
Christopher Nolan, Memento
Ridley Scott, Black Hawk Down
David Lynch, Mulholland Drive
Todd Field, In the Bedroom
JeanPierre Jeunet, Amelie
Michael Mann, Ali
Howard has surged ahead quite far since my initial predictions as the Beautiful Mind train rides into the station. Altman, Lynch and Field continue to slip, though Altman holds onto a nomination spot. Scott could easily replace Nolan who is the only nominee who looks shaky at this point. Amelie, Ali, A.I., Shrek, and Harry Potter's directorial nominations are dead.

Actor
Russell Crowe, A Beautiful Mind
Denzel Washington, Training Day
Tom Wilkinson, In the Bedroom
Sean Penn, I Am Sam
Gene Hackman, The Royal Tenenbaums
Kevin Kline, Life As A House
Billy Bob Thornton, The Man Who Wasn't There
Will Smith, Ali
Kevin Spacey, The Shipping News
Guy Pierce, Memento

Crowe jumps ahead of Washington who, along with Wilkinson are locks for nominations. Sean Penn should be nominated, though he won't win. Hackman looks to be nominated as well, though there are rumblings that his character may be considered a Supporting role. If this is the case Kevin Kline will take his place. Billy Bob Thornton (The Man Who Wasn't There) is right behind these competitors, but the others: Will Smith, Kevin Spacey, and Guy Pierce are out of luck. Ewan McGregor and John Cameron Mitchell's chances are DOA.

Actress
Sissy Spacek, In the Bedroom
Halle Berry, Monster's Ball
Judi Dench, Iris
Naomi Watts, Mulholland Drive
Nicole Kidman, Moulin Rouge
Renee Zellweger, Bridget Jones' Diary
Tilda Swinton, The Deep End
Nicole Kidman, The Others
Stockard Channing, The Business of Strangers
Cate Blanchett, Charlotte Gray

Will someone engrave Spaceck's award already and deliver it to her doorstep? Berry, Dench and Watts are far behind though they look sure to be nominated. Kitman should hang on for the fifth spot with Moulin Rouge as her The Others possibility declines fast. Zellweger and Swinton circle below waiting for their chance to spoil. Say "bye-bye" to the chances of Kidman (The Others), Channing and Blanchett (Charlotte Gray) and to the nomination deaths for Audrey Tautau, Thora Birch and Reese Witherspoon.

Supporting Actor
Ben Kingsley, Sexy Beast
Jim Broadbent, Iris
Steve Buscemi, Ghost World
Ian McKellen, Lord of the Ring
Hayden Christensen, Life as a House
Jon Voight, Ali
Tony Shaloub, The Man Who Wasn't There
Billy Bob Thornton, Bandits
Gene Hackman, The Royal Tenenbaums
Jim Broadbent, Moulin Rouge

The same person who delivers Spacek's statue should bring along Kingsley's and kill two winners with one trip as far behind in the should be nominated feild are Broadbent, Buscemi and McKellen. Christensen out the stops at the last minute and his chances have sharply risen high enough for a prediction that he'll grab the last slot out of the slipping hands of Voight who seemed a lock for a nomination for quite some time. Hackman in Tenenbaums is an odd spoiler in this category given the off chance that he may be considered for this category rather than Actor.

Supporting Actress
Jennifer Connelly, A Beautiful Mind
Helen Mirren, Gosford Park
Maggie Smith, Gosford Park
Marisa Tomei, In the Bedroom
Judi Dench, The Shipping News
Kate Winslet, Iris
Cameron Diaz, Vanilla Sky
Emily Watson, Gosford Park
Dakota Fanning, I Am Sam
Cate Blanchett, Bandits

Kate Winslet falls far from her predicted nomination and win from my original predictions. Instead Connelly rides the Mind hype for nomination and a projected win. Along with her, pretty much set for definite noms are Mirren, Smith and Tomei who surprisingly hasn't fell much after a no show in SAG noms. Dench should take the last slot though Winslet and Diaz are close behind. In the "it was an honor just to be thought of" category are Watson, Fanning and Blanchett (Bandits).

Original Screenplay
Memento
Gosford Park
Mulholland Drive
The Man Who Wasn't There
The Royal Tenenbaums
Monster's Ball
Moulin Rouge
The Others
Amelie
Ali

Memento hasn't moved in ages and won't in the coming weeks. Behind it are Gosford and Mulholland who should surely be nominated with The Man Who Wasn't There and Tenenbaums behind it. On the verge of possible noms are Monster's Ball and Moulin Rouge. No longer breathing include The Others, Amelie, Ali and Sexy Beast.

Adapted Screenplay
A Beautiful Mind
The Lord of the Rings
In the Bedroom
Ghost World
Black Hawk Down
Shrek
Bridget Jones's Diary
The Shipping News
Iris
Hedwig & the Angry Inch

Memento hasn't moved in ages and won't in the coming weeks. Behind it are Gosford and Mulholland who should surely be nominated with The Man Who Wasn't There and Tenenbaums behind it. On the verge of possible noms are Monster's Ball and Moulin Rouge. No longer breathing include The Others, Amelie, Ali and Sexy Beast.A Beautiful Mind rests comfortably in the number one slot with Lord, Bedroom and Ghost world snagging comfortable pleasure to be nominated spots. Black Hawk Down should also stay in its nomination slot with Shrek, Bridget Jones' Diary and The Shipping News rounding out the possible spoiler spots. Iris and Hedwig hang on very loose.

The Other Categories:
(Predictions for most likely to be nominated are ranked first.)

Foreign Film
Amélie (France)
No Man's Land (Bosnia)
Behind the Sun (Brazil)
Juana la Loca (Spain)
Our Lady Of The Assassins (Columbia)
Dark Blue World (Czech Rep.)
Atanjurat: The Fast Runner (Canada)
Elling (Norway)
The Sons Room (Italy)
Baran (Iran)

Animated Feature
Shrek
Monster's Inc.
Waking Life
Final Fantasy: The Spirits Within
Jimmy Neutron: Boy Genius
Osmosis Jones

Documentary Feature
Startup.com
The Gleaners and I
In Cane For Life
The Endurance: Shackleton's Legendary Antarctic Expedition
Down from the Mountain
Keep the River On Your Right: A Modern Cannibal's Tale

Cinematography
The Man Who Wasn't There
Lord of the Rings
Black Hawk Down
Moulin Rouge
A Beautiful Mind
Mulholland Drive
A.I.
Ali
The Shipping News

Art Direction
Lord of the Rings
Harry Potter
Gosford Park
Moulin Rouge
A.I.
Black Hawk Down
A Beautiful Mind
The Shipping News
Lord of the Rings
The Others

Costume Design
Lord of the Rings
Gosford Park
Moulin Rouge
Affair of the Necklace
Harry Potter
A Beautiful Mind

Original Score
Lord of the Rings
A.I.
The Shipping News
Harry Potter
A Beautiful Mind
Mulholland Drive
Gosford Park
Moulin Rouge

Original Song
Vanilla Sky - Paul McArtney "Vanilla Sky"
Kate and Leopold - Sting "Until"
Lord of the Rings - Enya "May It Be"
Monsters, Inc. - Randy Newman "If I Didn't Have You"
Pearl Harbor - Faith Hill "There You'll Be"
A Beautiful Mind - Charlotte Church "All Love Can Be"

Editing
Black Hawk Down
Lord of the Rings
Memento
Gosford Park
Moulin Rouge
A Beautiful Mind
A.I.
Ali

Makeup
Planet of the Apes
Harry Potter
Lord of the Rings
A Beautiful Mind
Moulin Rouge
A.I.

Visual Effects
Lord of the Rings
A.I
Harry Potter
Black Hawk Down
Pearl Harbor
Cats And Dogs

Sound Design
Lord of the Rings
Black Hawk Down
A.I.
Pearl Harbor
Moulin Rouge
The Others
Planet of the Apes
The Fast and The Furious

Sound Effects
Black Hawk Down
The Fast and the Furious
Lord of the Rings
Pearl Harbor
A.I.


This entry has 1 Comment:

Best Picture category staying pretty still. Monster's Ball gaining and Harry Potter losing slight steam.

Lynch falls fast, Ridley Scott replaces Christopher Nolan who now joins Todd Field for neck and neck spoilers in Best Director nom category.

Actor category almost motionless though Kline and Thornton change places.

Kidman's Oscar chances sliding as Zellweger jumps into the Actress nomination pack.

Voight back to gaining a better chance at a Supporting Actor nom.

Supporting Actress remains stagnant.

Mullholland losing, as Tenenbaums and The Man gain, power. Memento and Gosford are the only locks with Tenebaums, The Man, Mulholland, Rouge, and Ball in a neck and neck final stretch for the last three spots.

Adapted Screenplay lies motionless.

Mark (02/07/2002 08:08 PM)





<!A NAME="comments">

Add A New Comment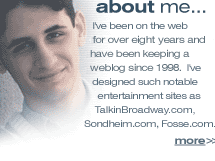 | | |
| --- | --- |
| | You know it. You love it. You can't get enough of it. Yes, it's the infamous webcam! |
| | |
| --- | --- |
| | Times have changed and so too has the design of this site. Journey back in time with me for some redesign fun! |
| | |
| --- | --- |
| | I have a healthy fascination with the phenomenon of events in relation to the musical Assassins. |
---


What people are saying:
I'm really not sure of the appeal of Mark Bakalor's site, because frankly I suspect there is none, but hell, I check it at least thrice daily, and you should too!

- dlevy
"Your website is beautifully demented. The moving head thing in the top left just does it. I've been staring at it for the past minute and still find it amusing. You're an inspiration to us all."

- Gord

"A physical middle ground between Bing Crosby and a sedated Pee-Wee Herman."

- Press Democrat

"Your website makes me giggle. tee-hee! i cannot stop myself."

- Jenn Kauffman

"Decide for yourself if this guy is brilliant or kooky."

- Brainrub.com

Brilliant!!! You're a cross between Robin Willliams and Fred Astaire!

- Mom


"I want to keep an ongoing converse with you about the end of wars, crime, death and old age... Like most, you are probably a bible reader... lets talk soon."

- Michael


"poopy shmapoopy on a purple stick."

- Emily


"People as talented as you should be smothered at birth. You're making the rest of us look like slackers."

- Brad Graham


"caCAcaca!"

- Elmer

Do you have something to add?