Archives: February 2002
Monday, February 11, 2002
I should have known better than to give last week's Oscar predictions too soon.
Things have been moving in the final stretch. What follows are my final Oscar nominee predictions... [more]
08:00 AM PST [Link] [Comment on this]
Wednesday, February 6, 2002
Why is it that an amazing majority of professional theatre related sites are so poorly designed?
10:19 AM PST [Link] [6 comments]
Tuesday, February 5, 2002
The domain name legal battle surrounding Unicom.com comes to a close:
Accordingly, Defendant's motion to dismiss for lack of personal jurisdiction is hereby GRANTED.
One small step...
06:06 AM PST [Link] [Comment on this]
Sunday, February 3, 2002
This is the fourth year I've been keeping records of my Oscar related predictions. My record, over the last three years, for correct Oscar nominees is 69.4% for all categories, for the big eight it's 77.5% and for the big four categories it's 78.3%.
As far as Oscar nomination predictions go, over time the categories I've best predicted are Actor, Actress, Supporting Actress, Costume Design, Sound and Visual Effects. For those categories I've predicted at least 4 of 5 (or at least 2 of 3 in related categories) nominees. My worst categories have been Foreign Film, Cinemetography, Make Up and Sound Editing.
This year, as every year, I'll try to increase my accuracy.
It is, perhaps, interesting to note that this year, of the big eight categories, myself and Entertainment Weekly agree on four of five nominees in each category except Best Actress where we agree on all five.
I'll have the official nominees, how I did compared to them and my initial reaction on the morning of February 12 and then I'll take an initial and then official stab at my Oscar winner predictions between then and March 23. Then we get the winners, my results and reactions and I'll shut up about predictions for a few weeks when I'll begin back up again with the Tony nomination and winner predictions!
Anyway, on with my predictions for, and commentary on, this year's set of Oscar nomination predictions... [more]
09:22 PM PST [Link] [1 Comment]
[Archive Index] [Older Archives] [Main Index]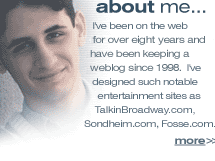 | | |
| --- | --- |
| | You know it. You love it. You can't get enough of it. Yes, it's the infamous webcam! |
| | |
| --- | --- |
| | Times have changed and so too has the design of this site. Journey back in time with me for some redesign fun! |
| | |
| --- | --- |
| | I have a healthy fascination with the phenomenon of events in relation to the musical Assassins. |
---


What people are saying:
I'm really not sure of the appeal of Mark Bakalor's site, because frankly I suspect there is none, but hell, I check it at least thrice daily, and you should too!

- dlevy
"Your website is beautifully demented. The moving head thing in the top left just does it. I've been staring at it for the past minute and still find it amusing. You're an inspiration to us all."

- Gord

"A physical middle ground between Bing Crosby and a sedated Pee-Wee Herman."

- Press Democrat

"Your website makes me giggle. tee-hee! i cannot stop myself."

- Jenn Kauffman

"Decide for yourself if this guy is brilliant or kooky."

- Brainrub.com

Brilliant!!! You're a cross between Robin Willliams and Fred Astaire!

- Mom


"I want to keep an ongoing converse with you about the end of wars, crime, death and old age... Like most, you are probably a bible reader... lets talk soon."

- Michael


"poopy shmapoopy on a purple stick."

- Emily


"People as talented as you should be smothered at birth. You're making the rest of us look like slackers."

- Brad Graham


"caCAcaca!"

- Elmer

Do you have something to add?